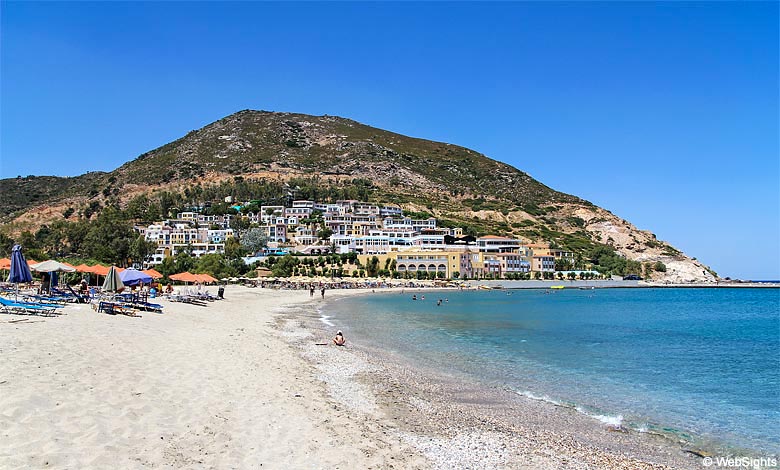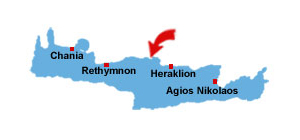 Paralia Fodele is located on the north coast of Crete, approx. 20 km west of the capital, Heraklion. The village Fodele is located 3 km to the south.
The beach in general
Paralia Fodele has a lovely big sand beach surrounded by mountains on both sides.
The main beach is 300 metres long and covered with golden sand. Along the waterline, there are quite many pebbles and some larger stones in the water. There are several sections with sun lounges and sunshades. Other facilities at the beach include showers, beach volley, and lifeguard supervision during the high season.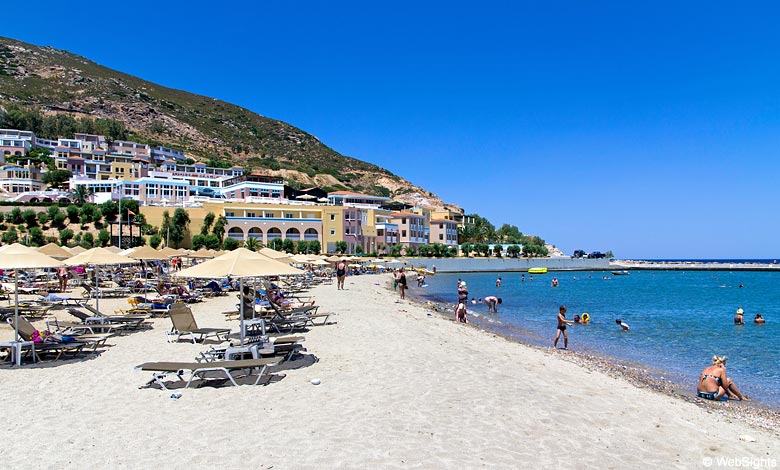 The other beach in Paralia Fodele is located only 250 metres from the main beach. The beach is smaller and does not have any facilities. Perfect for those who require a bit more privacy.
Both beaches have waves when the wind blows from the north. The western part of the main beach has the best wave protection as there is a breakwater construction in the water. This is easy to see on the map below.
Child-friendliness
There is always room to play and play ball at the beach. Unfortunately, there are stones in the water, so bathing shoes would be a good idea.
Water sports activities
In the western part of the beach, a few water sports facilities are available. The selection is more varied during the high season.
Beach restaurants
There are some cafés and small restaurants by the beach, such as Plaitis Taverna and Orange Taverna. The latter has a fine selection of fish courses.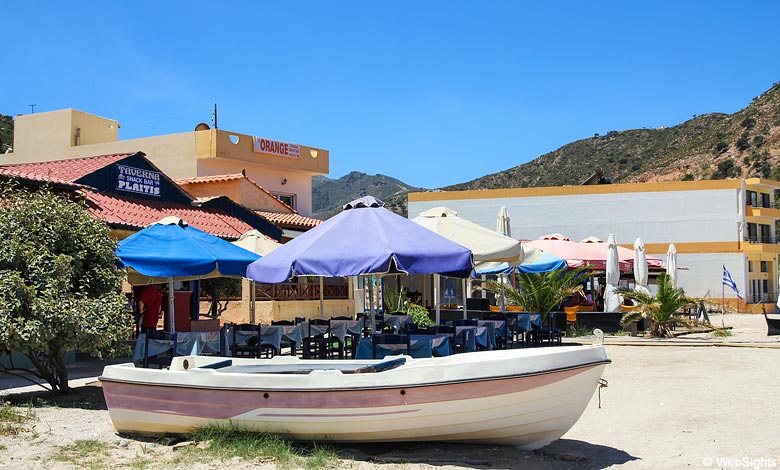 Paralia Fodele as a holiday resort
Paralia Fodele is a small, but charming town. Its most distinctive features are the relaxed atmosphere and the beautiful natural settings.
There are several hotels in the town. The largest and most popular hotel is Fodele Beach & Water Park Holiday Resort, which is perfect for families. For instance, the hotel has its own water park with many fun water slides.
Three kilometres to the south, you will find the charming village Fodele. Here you can enjoy a lunch in the lovely town square and you can visit a museum dedicated to the famous painter El Greco. This is located right next to his presumed childhood home. There is also a number of shops, including a bakery and a few supermarkets. The Fodele area is known for its many orange and lemon trees.
---
Paralia Fodele map