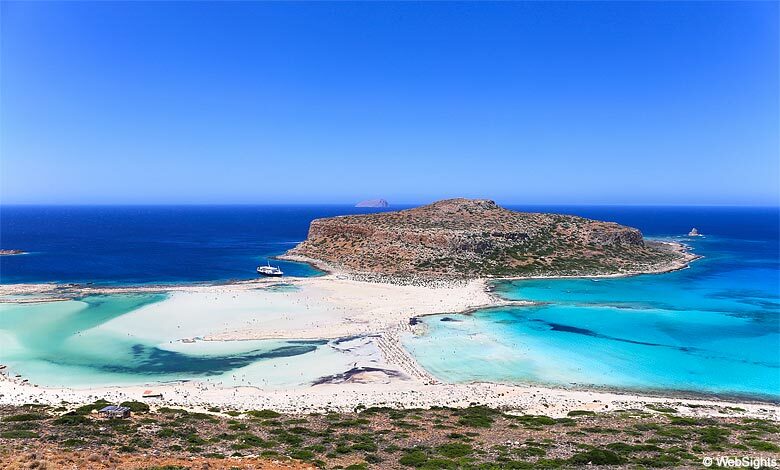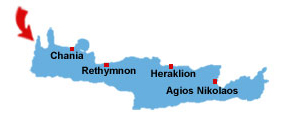 Balos is situated in north-western Crete, nestled in between the relatively large peninsula Gramvousa and the small, uninhabited island of Tigani. It is located 52 km, a little over an hour's drive, from Chania.
That said, most people take the ferry from Kissamos to Balos. The beautiful trip offers the chance to spot dolphins. The ferry stops at the island of Imeri Gramvousa, where you can visit the old fortress as you make your way towards the beach.
Balos is featured on our top 10 beaches in Crete.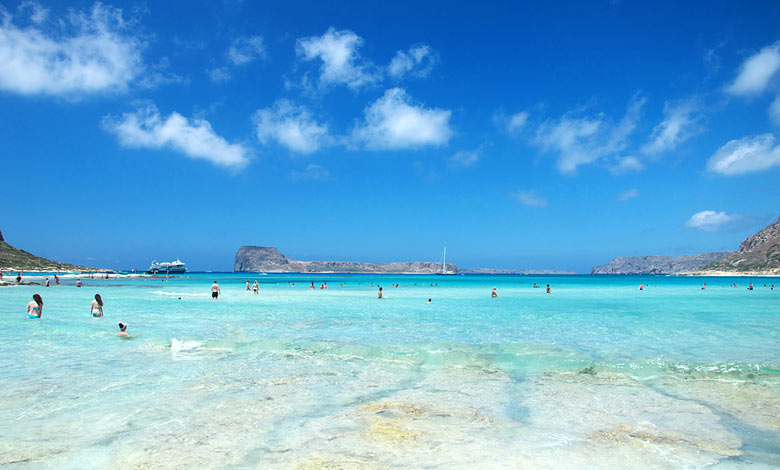 An overview of the beach
Those who drive to Balos will be met with a breath-taking view as they roll into the carpark. The carpark is located 1 km from the beach, but the entire walk down is absolutely stunning, and it's easily one of the most photographed areas in all of Crete.
The beach can be found in the area between Gramvousa and Tigani. The large area is covered with the finest sand that sometimes shimmers pink because it's mixed in with crushed corals and seashells. Between the sandbanks is a large area with shallow water, best described as a lagoon. The water has a beautiful, turquoise hue.
Sun loungers and parasols are available to rent, and the lagoon is equipped with showers and toilets. There are no lifeguards, but bathing in the lagoon is fairly safe. There are no waves and no undercurrents.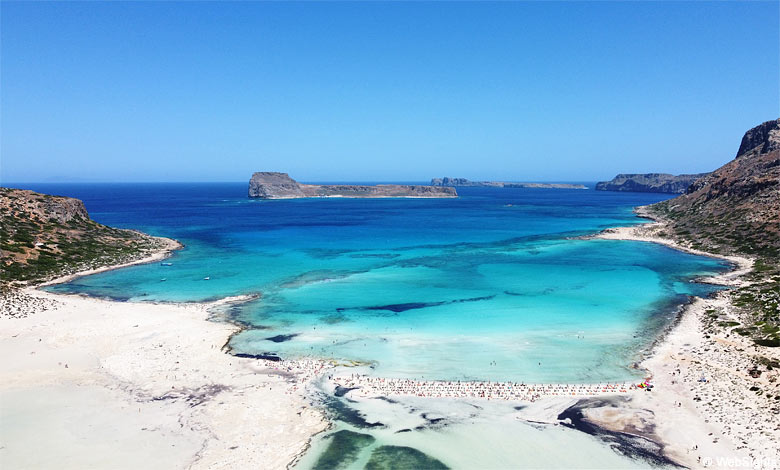 In July and August, people tend to be packed like sardines in Balos. Those who arrive by car should arrive early, so they don't miss out on the sun loungers and the last hours of relative calm before the ferries start running regularly.
Child-friendliness
The shallow, calm water in the lagoon is perfect for families with children. It doesn't get better than this. Those who arrive by car should keep in mind that the lagoon is a fair walk from the carpark.
Water sports
There are no water sports in Balos, but those who like to stay active can enjoy a walk along the beach, taking in their unique surroundings.
Beachside restaurants
Although the area is protected under Natura 2000, a few beach bars have popped up along the lagoon, where guests can buy drinks, snacks, and ice cream.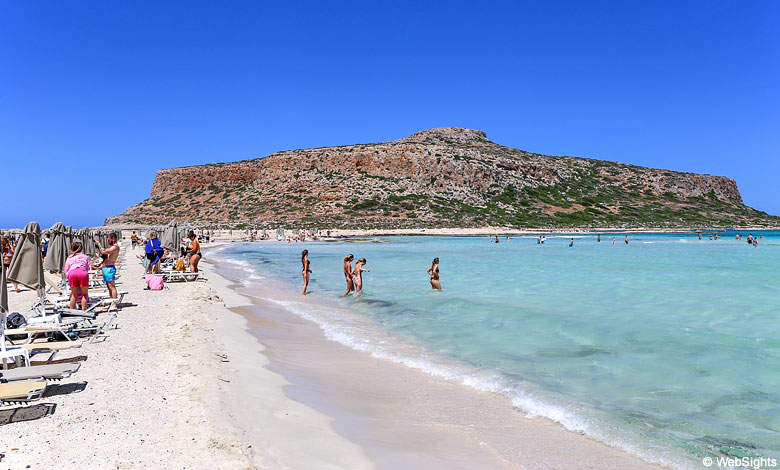 Holiday destinations in the vicinity
The nearest town is Kissamos, which is a "real" town with lots of local residents and normal shops. On the outskirts of town, you'll find a selection of wonderful beachside hotels, such as Molos Bay, which regularly receives positive reviews from guests.
A little further out is the Chania coast, where you'll find one holiday destination after the other. The town closest to Balos is Kolymvari.
---
Watch our video from Balos – and follow our Youtube channel
---
Map of Balos
The island of Tigani can be seen on the left on the map, and the Gramvousa peninsula is visible on the right. Balos is right in the middle between the two.