Kreta er den største af de mange græske ferieøer, og med sine 8.336 kvadratkilometer er den samtidig den femtestørste ø i hele Middelhavet.
Det dejlige subtropiske klima, de flotte sandstrande, det græske køkken og den gæstfrie lokalbefolkning gør Kreta til et af danskernes foretrukne rejsemål i sommerhalvåret. Det gode vejr strækker sig endda langt ind i sensommeren, og selv i oktober er det ofte behageligt sommervejr.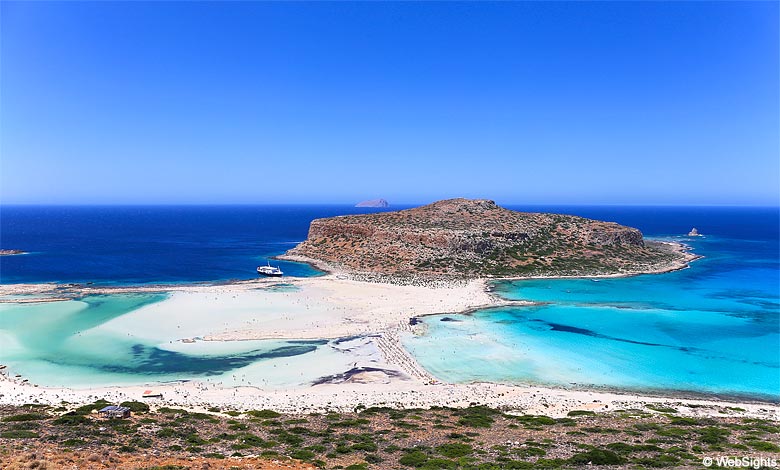 De fleste turister ankommer til en af Kretas to internationale lufthavne. Den største lufthavn ligger i hovedstaden Heraklion i den østlige del af Kreta, og derfra kan turen gå videre til feriebyer som Agios Nikolaos, Elounda og Hersonissos.
Den anden lufthavn ligger i Chania i den vestlige del af Kreta, og det er nok den mest kendte lufthavn blandt danskerne. Chania er i sig selv en stor ferieby, mens Platanias og Rethymnon er to andre populære feriebyer i området. Langs hele Chania-kysten ligger de små og mellemstore feriebyer som perler på en snor.
Når det kommer til strande, så har Kreta flere strande end nogen anden græsk ø. Den samlede kystlinje er på 1046 km, og øen byder på store flotte sandstrande, isolerede naturstrande, romantiske laguner og tilmed Europas største strand med palmetræer, nemlig Vai på østkysten af Kreta. Udover Vai er de tre mest kendte strande Elafonissi (foto ovenover), Falasarna og Balos, som alle ligger på Kretas yderste vestkyst.

Klik på et af de fire områder på kortet for at se alle strandene i området. Hvis du vil søge på en bestemt strand, så brug søgefeltet oppe i højre hjørne på siden.
Kreta har tæt på 100 strande med EU's blå flag, der tildeles strande med god vandkvalitet, styr på sikkerheden og beskyttelse af miljøet. 
Regionen Lassithi topper listen med mere end 40 strande med det blå flag. 
Mange af de populære turistbyer har strande med blå flag, herunder Agia Marina, Elounda, Hersonissos og Rethymnon.
---
Vores videoer Kreta