Crete is the southernmost of the many Greek islands in the Aegean Sea. With a total area of 8,336 square kilometers, it is also the largest Greek island and the fifth largest island in the entire Mediterranean.
The island is divided into four administrative regions (prefectures), which from west to east are Chania, Rethymnon, Heraklion and Lasithi. Heraklion is also the name of the island's capital and most populous city.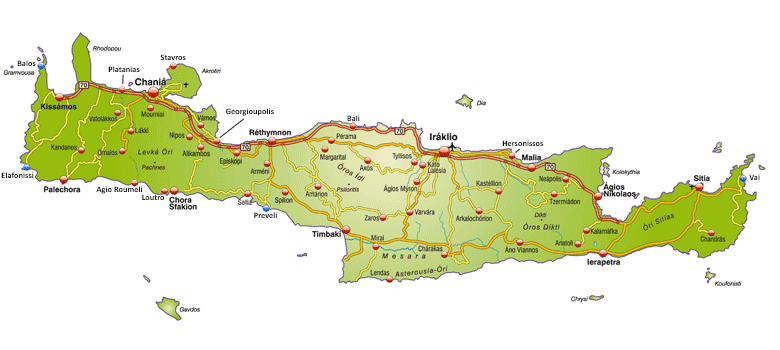 On the map you can spot many of the well-known holiday resorts on the north coast. These include cities such as Chania, Platanias, Rethymnon and the very lively Malia. The holiday resorts on the south coast are often smaller and quieter, such as Loutro and Paleochora, which can be seen in the lower left corner of the map.
The westernmost point of Crete is Gramvousa, and from here it is 260 km to the easternmost point Sideros. From north to south, the distance varies between 12 and 60 km. In other words, a long and relatively narrow island with a total coastline of 1,046 km.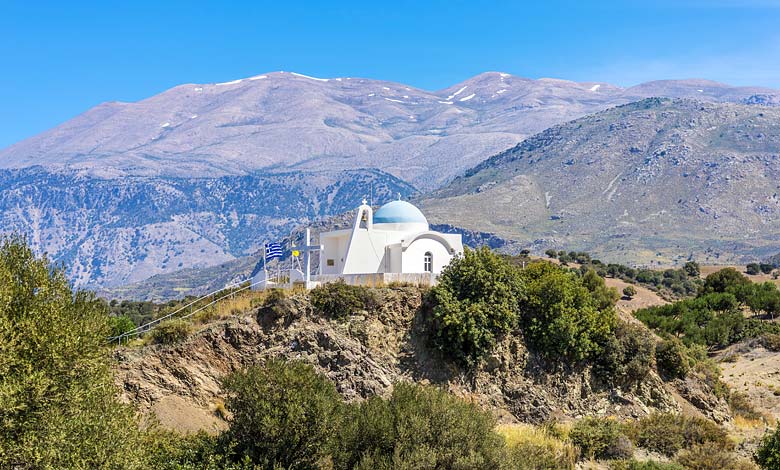 The landscape is dominated by the many impressive mountains. The best-known mountain range is Léfka Ori, The White Mountains, in the western part of Crete. In that mountain range alone, there are over 40 mountain peaks at over 2,000 meters high. With 2,456 meters Psiloritis is the highest mountain in Crete. The mountain is also referred to as Ida or Idi and is located in the middle of Crete (is marked on the map).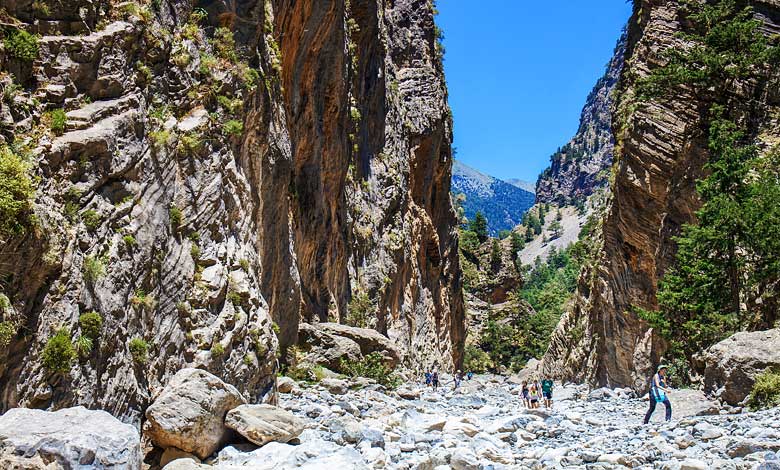 With the many mountains come many spectacular gorges. The most popular is the 18 km long Samaria Gorge, which is Europe's longest gorge. On the above map, Samaria can be seen with its mouth in Agia Roumeli. Another well-known gorge is Kilada ton Nekron, also known as the Valley of Death due to the many Minoan graves in the area.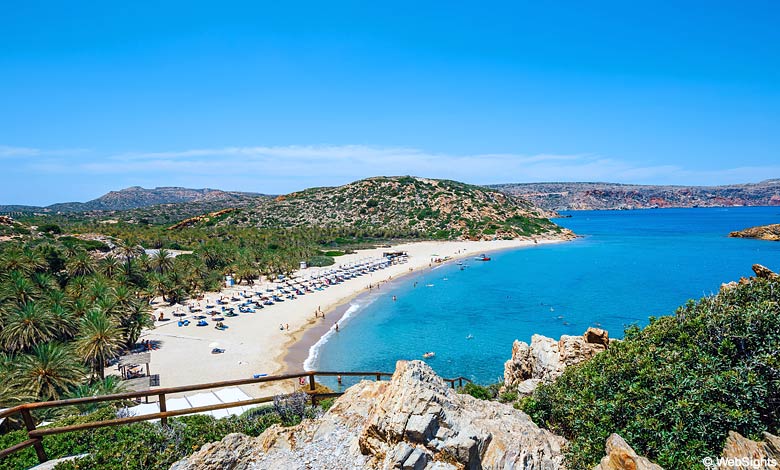 Among many other interesting attractions are Crete's two palm beaches. The largest is Vai on the east coast, which with its 5,000 palms is Europe's largest palm beach and much larger than Preveli on the south coast. However, the most famous natural beaches are Balos and Elafonissi on the west coast.
All four mentioned beaches can be seen on the map in the top of the page.